Social Touch Device for Pain Relief
Member: Youchan Yim.
Keywords: Robotic hands, social touch, and pain relief.
Social touch is a type of physical contact in a person-to-person social relationship and it is an important part of our interaction with others. Diverse psychological positive effects related to social touch have been reported, such as creating bonds, reducing anxiety and also reducing physical pain by holding hands between lovers. In this work, we applied the psychological benefits of social touch to human-robot interaction and developed robotic hands aiming to provide people with a sense of security.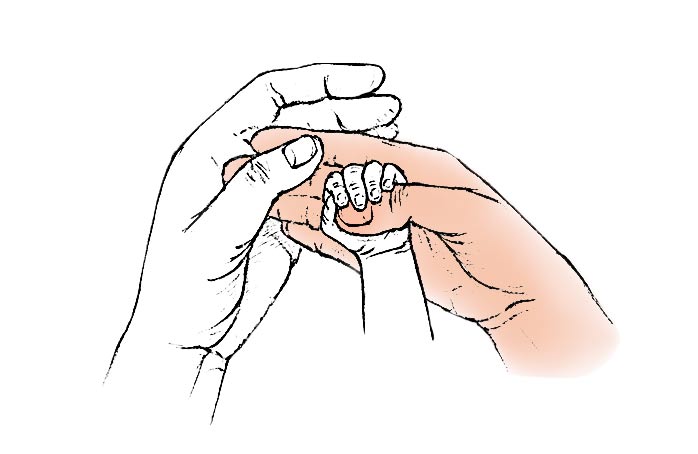 The device we developed is a robotic hand with a grip structure that combines a small size robot hand and a regular size robot hand. When the small size robot hand holds the user's thumb like a baby, the user can grip the small device with the remaining fingers. In addition, when the small size robot hand and the user's hand hold each other, the normal size robot hand can gently hold the back of the user's hand as shown in the figure above. Therefore, when interacting with the device, the user can feel three kinds of sensations.

This device is currently in the prototype stage and there is room for improvement. However, we hope that this study will be able to contribute in the medical field concerning the alleviation of pain.
Youchan Yim, Fumihide Tanaka : Development of Robotic Hands for Pain Reduction by Social Touch. The Proceedings of JSME annual Conference on Robotics and Mechatronics (Robomec) 2019, 1P1-L08, 2019, [pdf at J-STAGE, 388KB]
(Updated on April 18, 2020)